With Our Team In Your Corner
There Is No Fight For You
To Take On Too Big or Small
The Law Offices of Vincent Miletti, Business Lawyer in Brooklyn — Fighting to Protect Your Rights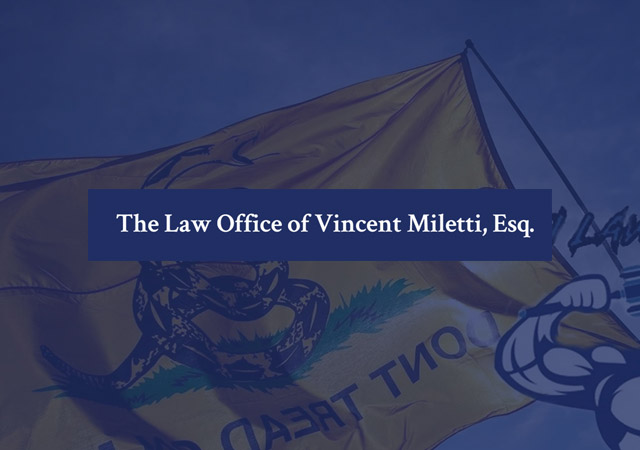 The professional world is rarely as straightforward as one might hope. Business owners have to worry about employment laws, intellectual property, and constantly changing government regulations. On the other hand, employees often face discriminatory behaviors, unfair treatment, and even wrongful termination in the workplace. Clearly, the professional world can get complicated — and in such instances, you need a business lawyer in Brooklyn on your side.
At The Law Office of Vincent Miletti, Esq., our legal team has spent over 15 years serving professionals in New York and New Jersey. We started out by assisting businesses and brands with their toughest challenges. However, our practice has expanded since 2012 to include protecting workers from unfair and illegal actions. Regardless of your legal need, our Brooklyn business lawyer is here to help. Contact us today for a free initial strategy session.
Unique & Specialty Areas of Law
The term business lawyer in Brooklyn can be pretty broad. After all, some law firms focus on helping entrepreneurs start companies — while others may assist with defending businesses against government overreach. Still others focus entirely on discrimination lawsuits and other employee rights issues. At The Law Office of Vincent Miletti, these are the services we offer our clients:

Dealing With the Government on Your Terms
If you're an employer, you're going to have interactions with the government. It's just a fact of life. If you're lucky, you'll deal with nothing more than a few simple regulations and the need to federally register your intellectual property. Unfortunately, the government can also be very intrusive. In fact, good ol' Uncle Sam may drag you into court for a variety of reasons:
Allegations of discrimination
Regulatory compliance issues
Sexual harassment accusations
Criminal charges (e.g., fraud, embezzlement, insider trading)
Wage disputes
Allegations of acting in bad faith
Other employment law issues
You could also find yourself in the legal crosshairs due to non-government entities. For instance, a trademark troll might jump at the opportunity to file a bad-faith lawsuit and go after your money. The simple fact is that a business attorney in Brooklyn should be your first call if any legal or regulatory issue arises. And since we offer a free initial strategy session at The Law Office of Vincent Miletti, Esq., you have nothing to lose by seeking legal assistance.
A Full-Service Brooklyn Law Firm On Your Side
Working in business law is a complex endeavor. This is why so many law firms only focus on one or two specific specialties. Unfortunately, this puts them at a disadvantage in some instances. The simple fact is that everything in the professional world is interconnected. That's why The Law Firm of Vincent Miletti has an expansive list of practice areas — and it's also why we represent clients on all sides of the aisle.
Since 2007, we have represented businesses in regulatory disputes, claims of discrimination, wage disputes, and other employment law issues. In 2012, we began offering our services to employees as well — as we realized that they often get the short end of the stick. Working on both sides gives us insight that many other firms don't have. It's also why we help companies avoid such issues altogether with training seminars, mediation, and other professional services.
Can a Brooklyn Business Attorney Really Help?
At some point, you may have asked yourself whether you need an attorney for your case. After all, the Equal Employment Opportunity Commission has an online submission form for various types of workplace discrimination. Similarly, the U.S. Patent and Trademark Office has simplified the application process in recent years. Simply put, there are many legal tools for modern employers and employees that once weren't readily available. However, it's still often in your best interest to seek legal advice.
That's because statistics consistently show that individuals represented by attorneys have better legal outcomes on average. Additionally, most legal experts warn against utilizing do-it-yourself legal forms. Taking such an approach often leads to simple mistakes that can turn devastatingly costly. And if you're accused of a crime, representing yourself is rarely a good decision. At The Law Office of Vincent Miletti, we know that it may seem tempting to "go it alone." Since we offer a free initial strategy session, there's no harm in speaking to a legal professional first.
Get In The Know, On The Go!
Our Law Firm is Ready To Assist You
Whether you're an hourly employee moving your way up or an executive at the top of the ladder, you're going to encounter legal needs during your professional career. This may be something as simple as protecting your growing brand, or things could get complicated due to unfair treatment or government allegations. Regardless of the issues that you're facing, you can benefit from a legal team that's experienced in handling all these matters.
At The Law Office of Vincent Miletti, Esq., that's exactly what we offer. Even better, we're conveniently located in a central location. We're just 3 miles from Bath Beach Park, 9 miles from New York City Hall, and only a 14-mile drive down Belt Parkway from John F. Kennedy International Airport (JFK). If you're in need of a business lawyer in Brooklyn, we're nearby and ready to help. Contact us by calling (314) 648-2586 to schedule your free initial strategy session today.
Why Choose The Law Office of Vincent Miletti?
If you Google the phrase "business lawyer in Brooklyn," the search giant returns over 300 law firms. While all these attorneys obviously won't serve your specific needs, there are many who will take your case. How can you choose the best lawyer for your unique circumstances? At The Law Office of Vincent Miletti, we believe we're the right choice for several reasons:
Extensive Legal Experience
How long does someone have to do what they love before they're considered a professional? We know that this is a complicated question, but our law office has been serving clients for over 15 years. We're just as committed to our clients as we were on day one. The only difference is that now we've got a level of experience that many law firms can't come close to.
Local Experience
You definitely want an experienced legal professional on your side. Otherwise, you could just drag the bottom of the barrel when seeking a business lawyer in Brooklyn. However, there's no debate that local experience is even more valuable. Our legal team has worked with local authorities, investigators, regulators, legal experts, and other professionals right here in New York City for years. These relationships can prove invaluable to your case.
Fully Informed Representation
When you're playing chess, knowing your opponent's next move is one of the most valuable skills you can have. We've translated this into legal practice. By serving both complainants and defendants, we know what it takes to win a case on both sides. We know what to expect during investigations, depositions, litigation, and more. This means you're getting fully-informed representation when you work with our Brooklyn business law attorney.
Alternative Dispute Resolution
Going to court is sometimes the only solution. Unfortunately, some law firms jump to this conclusion far too often. They know that trials can drag on, and if they're billing by the hour, this means big bucks. At The Law Office of Vincent Miletti, our goal is to meet your legal needs as efficiently as possible. In some instances, this means reaching settlements or engaging in alternative dispute resolution. You can trust that we'll always work in your best interest.
Brand Building
When you go into business, you'll quickly recognize the value of the intellectual property. Whether it's patents, trademarks, or copyright, these properties are priceless to your brand. However, building a successful brand involves more than just IP registration and monitoring. That's why our law firm can offer advice and services related to additional branding, marketing, and more.
Proactive Measures for Businesses
When you work with a business lawyer in Brooklyn, they should strive to protect your brand. Unfortunately, many firms see this as a reactive endeavor. We offer a more proactive approach. Yes, we can represent you in discrimination, wrongful termination, and other legal issues. However, we also offer document review, conflict resolution, training seminars, mediation, consultation services, opinion letters, and other services that might keep you out of court.
Podcasts Delivered From The Heaviest Microphone In Law!
Latest Podcast!!
See the latest podcasts here, and be sure to go to our archives for more! Fresh, creative, current relevant topics, delivered with humor, research, and support. Have any issues, in particular, you want to discuss?
Send us a suggestion at [email protected]!!
Can You Sue Your Employer?
You may have found your way to our law firm by researching whether you can sue your employer. The real question isn't if you can sue your employer — which has a straightforward answer of yes — but rather if you can successfully sue your employer. If that answer is yes, our legal team is here to help you prove your case during litigation. If the answer is no, we can save you a significant amount of time and inform you of your options during a free initial strategy session.
Simply put, there are many reasons you can file a lawsuit against your employer. Discriminatory behaviors, sexual harassment, retaliation, wrongful termination, contract violations, and a variety of other illegal acts can put you on solid ground for litigation. Of course, it's important to remember that New York is an at-will employment state. This can sometimes become an issue in cases involving termination, so it's best to speak with a Brooklyn business attorney.
Frequently Asked Questions
At The Law Firm of Vincent Miletti, we know that business and employment law are complex legal areas. Many questions don't have simple answers, so we offer a free initial strategy session. However, the following are some of the most common questions we hear. Understanding these issues can give you a better idea of how to move forward.
What is workplace discrimination?
Discrimination in the workplace occurs when a person or group is treated differently or unfairly due to certain traits. Not all discrimination is illegal. For instance, it's legal to fire someone over their favorite movie. However, it's illegal to fire employees based on traits that are protected by federal or state law. Discrimination on these grounds is harmful and illegal.
Are false allegations of racism defamation?
Some business owners have found themselves accused of racism for making common employment decisions (e.g., promotions, raises). However, being accused of racist beliefs typically does not rise to the level of defamation. A person's perception can shape their opinion. If an employee accuses you of a racist act that you did not engage in, however, you may have a strong case for defamation.
Do I have to alert management of sexual harassment?
In most cases, alerting an employer that sexual harassment is occurring is necessary. This gives them an opportunity to fix the issue, and it establishes liability if they fail to do so. However, this is typically only the case if the culprit is a co-worker or third party. If a manager or executive is engaged in inappropriate sexual behavior, liability may already exist.
Can I sue for stress in the workplace?
There are instances where an employee can sue for overstress in the workplace. Typically, successful lawsuits are those that focus on emotional distress created by discrimination, retaliation, harassment, and other illegal actions on the job. This can turn into a complicated matter, so speaking with an employment law attorney in Brooklyn may be in your best interest.
What if I'm fired for no reason?
While it may be difficult to believe, it's typically acceptable for employers to fire workers for no reason at all. This is thanks to at-will employment laws. However, a company may be in violation of the law if a termination goes against an employee's contract or violates an existing statute. You may have a valid lawsuit without even realizing it.
Can employers ask about criminal histories?
Many employers throughout the country make a habit of inquiring about applicants' criminal histories. However, there are restrictions on this in New York. While employers in the state can ask about arrests and convictions, they can only do so after a job offer has been extended. This gives everyone a fair opportunity to show their value without an employer having their judgment clouded early on.
What are protected activities?
Protected activities are actions and behaviors that employers cannot fire a person over. Companies are not allowed to terminate employees who engage in legal activities. For instance, a worker is legally allowed to report discrimination, file for workers' compensation, join a union, and engage in political activities away from their job. Firing someone over these activities is illegal.
What if I'm fired after reporting wrongdoing?
If you're terminated from your position after reporting wrongdoing, it's likely that your employer has engaged in retaliation. This is illegal under both state and federal law. Companies cannot retaliate against employees for reporting harassment, discrimination, or other unethical and illegal activities. Retaliation can also involve other adverse employment decisions (e.g., demotion, pay decrease). This can leave employers open to a lawsuit.